Whew! It's been a while since we've posted. The Comics Colloquium has been trucking along during social isolation. We've met online since March, talking about fantastic books like Parable of the Sower, Ooku, and Y: The Last Man, and we'll continue to convene virtually until we're able to safely assemble once again.
In the meantime, we asked our members to share what they've been reading during the pandemic, for fun or for scholarship. Here's what folks shared:
Damian Duffy
Author; Adjunct Faculty, School of Information Sciences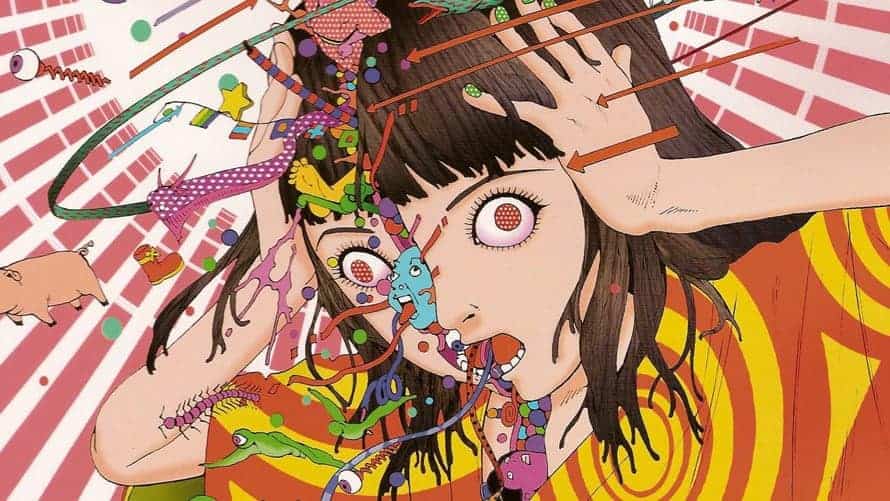 Have you ever wondered what it would be like if the Twilight Zone and Tales From the Crypt dropped acid together, slammed energy drinks, and then visited a retirement community, well then, you and I are very different people, because that hypothetical question never even occurred to me until I read its answer: Dementia 21 by Shintaro Kago. I was unfamiliar with the manga prior to coming across the cover to its first translated volume (published by Fantagraphics) during an insomniac scroll through the menus of Comixology Unlimited, so I didn't know exactly what to expect beyond the description: "Yukie Sakai is a sprightly young home health aide eager to help her elderly clients. But what seems like a straightforward job quickly turns into a series of increasingly surreal and bizarre adventures that put Yukie's wits to the test!" Even promises of "experimental visual storytelling approach, and outrageously sexual and scatological subject matter" didn't really give me much to work with, since those words could describe at least a few other manga I've read, and even those were vastly different from one another. But it's episodic and darkly comedic in a way that's overall satisfying for fans of the fucked-up. I rate this five out of five self-replicating cybernetic dentures.
Kelli Trei
Associate Professor, Biosciences Librarian
Comics have become the most engrossing form of reading for me during the pandemic. Consequently, I've been reading a lot of 'em! I am finishing two series: Unwritten by Mike Carey, Peter Gross & Yuko Shimizu and Mind MGMT by Matt Kindt; both of which are complex and glorious! I have also been catching up on Snotgirl by Bryan Lee O'Malley & Leslie Hung and Heavy Vinyl by Carly Usdin & Nina Vakueva. Most recently I embarked on some Marvel comics: including The Vision series by Tom King and Truth: Red, White & Black by Robert Morales and Kyle Baker!
Eric Benson
Associate Professor, Graphic Design
As I have an eleven-year-old daughter (who loves comics), we decided that I would read her comics and graphic novels during the quarantine. She was having some trouble understanding everything and furthermore she is headed to middle school in the fall. Traumatic on other levels! So together we read:
Meg, Jo, Beth and Amy (patterned after Little Women)
The Berrybrook Middle School Series by Svetlana Chmakova
Terri Libenson's works (Becoming Brianna, Invisible Emmie, Just Jamie, and Positively Izzy)
Roller Girl
El Deafo
a bunch of Jumberjanes!
Sunny Rolls the Dice
The Backstagers
Heavy Vinyl
Sanity and Tallulah
White Bird
and all the Raina Telgemeier books
Outside of these, I did get a chance to read some solid graphic novels for a bit older of a crowd: Parable of the Sower, Descender, and Firefly.
Shawn Gilmore
Senior Lecturer, Department of English
I just reread Tillie Walden's amazing On a Sunbeam (2018), as I am likely adding it to my fall Introduction to Fiction reading list, which focuses on weird bodies and spaces. For those unfamiliar with Walden, she has put out one great book after another for that few years, but for me, On a Sunbeam is the most adventurous—the plot, which is a bit obscure at first, follows a team that travels through a fantastical version of space, trying to preserve ruins and the past, while one of the central characters realizes that she might be able to do the same with a lost relationship. It's worth reading the whole thing without much more setup than that, and you can do so for free, as Walden serialized On a Sunbeam online, and it is all still available. It's a gorgeous, lyric meditation on relationships and choices, and I cannot recommend it enough.
Scott Zrebiec
Data Scientist
I am not sure why, but reading darker material when things gets dark cheers me up. I went with Tomie and Uzumaki by Junji Ito and Harleen.
Emilie Staubs
Scholarly Commons Office Manager
Shortly before the coronavirus shut down Illinois I went to the public library and picked out a couple graphic novels. The illustrations of Snow, Glass, Apples and The Golden Age caught my eye. Snow, Glass, Apples was perfectly creepy and gorgeous. The Golden Age seemed like it would be a fairy tale like many others… Princess Tilda's younger brother usurps the throne and she escapes with two trusty friends to regroup and try to take back the kingdom. But I was surprised by how the story and character development progressed. I'm eager for the next book to be published! I love the artwork, especially in the fantastic landscape scenes.
Mara Thacker
Associate Professor, South Asian Studies and Global Popular Culture Librarian
Since lockdown started in March 2020 I haven't had much of an attention span for reading, including comics. For the most part I have stuck to comics we selected for the C-U Comics Colloquium. That said, I brought a comic back from my January 2020 trip to India that I am finally starting to read. Chhotu: A Tale of Partition and Love by Varud Gupta and Ayushi Rastogi. Chhotu is a coming of age story set in 1947 India. Partition is not a light subject but it's handled relatively lightly and sensitively in this comic. Sadly, the store I bought this title from, Full Circle Bookshop in Khan Market in New Delhi, is a casualty of the economic consequences of the covid-19 shutdowns in India. So while finally reading comics again feels like a return to relative normalcy both professionally and personally, even here there are reminders of the current world situation.